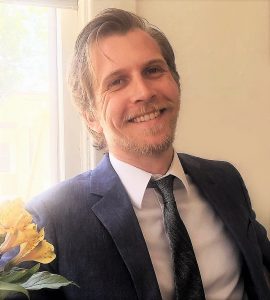 Tyler Fyotek, Psychotherapist
Credentials: LMHC, NCC. M.A. in Clinical Mental Health Counseling from Adler University; Ph.D. in Classics (ancient literature and philosophy) from the University of Iowa.
Many enter therapy seeking relief from some stress, grief, or pain that has become unbearable. This is only the beginning; I can help you accomplish something more profound than that. With a view to holistic well-being, you can improve your embodied health, self-awareness, sense of purpose and belonging with others, and relationship with your inner self and a higher power.
My therapeutic approach is highly flexible and attuned to the needs and preferences of individual clients with a strong emphasis on empathy, warmth, and authenticity in the therapeutic relationship. To address urgent symptoms of anxiety, depression, trauma, and drug/alcohol dependence, I offer psychoeducation regarding mindfulness, biofeedback, and methods for altering oppressive behavioral and thinking patterns.
Building on this foundation, I specialize in offering clients diverse frameworks for making meaning from their experiences and constructing more empowering (because they are more accurate) self-narratives by drawing on ancient wisdom traditions and modern research in psychology, cognitive science, and the social sciences. My approach is a unique synthesis of Philosophical & Narrative Therapy, which is informed by my background as a scholar of Classics, the oldest multidisciplinary field of study in Europe and the United States. You can access some free psychoeducation on my blog and podcast: Thinking Tools.

For recurring psychotherapy, please email tyler@therapeuticthinkingtools.com or call/text (319) 322-8086.
If your goals are primarily aspirational and you do not wish to receive a diagnosis, you may prefer brief or intermittent Philosophical & Narrative Therapy: Request Appointment. (Note that insurance will not reimburse for services not deemed medically necessary, i.e. without a diagnosis)
_____________________________________________________________________
Tyler accepts Wellmark Blue Cross / Blue Shield and is also open to sliding scale out of pocket payment.
Under the law, if you do not have or are not using insurance, you have the right to receive a GOOD FAITH ESTIMATE for the total expected costs of any non-emergency items or services. Click here to learn more.