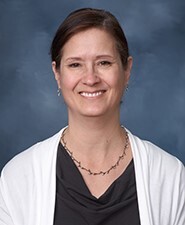 Andi Woods
PA-C, MPH, CHES, CHC
Andi Woods (she, hers, her) began the Preventive Health Center of Iowa City as a part of her MPH studies at the University of Iowa. She enjoys training health care providers and staff on cultural humility, queer health equity, and preventive health.
Within her completed MPH she obtained Certified Health Education Specialist (CHES) credentialing and completed the Practicum in Health Coaching. She has an MS in physical education, is a PA-C (certified physician assistant/associate) with a Certificate of Added Qualification in Psychiatry, and is a CMA (certified medical assistant).
She provides proofreading and light copy editing for medical journals.
She is most enthusiastic about the human-animal bond, is a member of the International Society for Anthrozoology, and enjoys delving into people's relationships with animals.
SERVICES OFFERED:
HEALTH COACHING
General – For anyone wanting to make changes to their health in sustainable shifts
LGBTQAI+  – For those needing a queer-friendly atmosphere to make health changes
Pets & People – For someone wanting to transform their health and the health of their animals
EDITING & PROOFREADING
Proofreading for scientific papers and health education materials
PREVENTIVE HEALTH CONSULTING
Workshops and consulting available for your organizations in these topics:
Cultural humility – the basics
Health equity in yoga studios
Inclusivity in sexual health education
Preventive health – the basics
Queer health equity
Sexual health education
Strangulation prevention and education
Email: phcic52240@gmail.com
Phone: 319-354-3856
Under the law, if you do not have or are not using insurance, you have the right to receive a GOOD FAITH ESTIMATE for the total expected costs of any non-emergency items or services. Click here to learn more.